Annie's Crannies - Recipes

Cape Cod Cranberry Bread

4 cups flour
2 cups granulated sugar
1 tsp. salt
1 tsp. baking soda
3 tsp. baking powder
2 eggs, slightly beaten
1 cup orange juice
1/4 cup hot water
1/4 cup melted butter
1 tbsp. grated orange rind
2 cups chopped cranberries (fresh or fresh frozen)
3/4 cup chopped nuts

1. Combine all dry ingredients in a large bowl
2. Mix eggs, orange juice, hot water, butter and orange rind; stir into flour mix
3. Fold in cranberries and nuts
4. Spoon batter into two greased loaf pans
5. Bake at 350 degrees for 1 hour and 10 minutes
6. Remove from pans and cool on racks

Makes 2 bread loaves.

Recipe courtesy of Betsy Orcutt.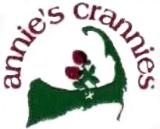 Located in historic Dennis,
Cape Cod MA birthplace of
the cultivated cranberry!